Get free or low-cost coverage through the American Rescue Plan.
First, choose a starting date for coverage.
Savings are available
Thanks to financial savings, you may be able to lower the cost of your monthly premiums. You can check to see if you are eligible by starting your shopping experience.
We're here for you every step of the way. Please call us at
1-833-776-4540 (TTY: 711)
for help finding the option that will work best for you and your family.
Have you heard about our affordable, virtual-first plan: UPMC VirtualCare?*
UPMC VirtualCare provides access to the highest-quality care in Pennsylvania and is designed to meet many financial and health care needs.
It connects you to convenient, low-cost care your way—virtually or in person. You know what you need, so you can choose what's best for you.
Learn about UPMC VirtualCare
Discover the value of UPMC Health Plan:
You will have all the resources you need to manage your health within easy reach:
Providing you with access to care to help keep you healthy
Taking care of your mental and physical health
Supporting you when you need it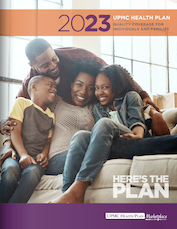 Learn about high-quality plans for individuals and families and financial aid options that can help you save on your coverage.
See our 2023 Product Guide
*Available only in Allegheny, Beaver, Butler, Erie, Fayette, Washington, and Westmoreland counties.
1Preventive care will be covered at 100 percent only when it is received from a participating provider and it is billed as preventive. A separate cost share may apply if additional medical services are received during the same visit or if your preventive care appointment becomes diagnostic in nature.
22Tier 5 preventive medications on UPMC Health Plan's Advantage Choice formulary will be covered with no cost share for members who meet certain criteria in accordance with the Patient Protection and Affordable Care Act of 2010.
3Go to upmchealthplan.com/BEST for award information.
4UPMC Health Plan commercial members and their dependents who reside or are traveling in Ohio will continue to access care through the SuperMed PPO Network and, while traveling outside of the state of Ohio, can also utilize the Cigna PPO Network.
5UPMC AnywhereCare Virtual Counseling is available to UPMC Health Plan members who are located in Pennsylvania at the time of the visit. The service is available to members of your household who are 18 years old and older. If further counseling is needed, the counselor may refer you or your household members to relevant community resources.
6Only the virtual visit with the provider will be covered at 100 percent. Prescription drug and other costs related to the visit or recommended by the provider will not be included in the virtual visit coverage and will be your responsibility. If you are enrolled in the UPMC Advantage Silver HSA $4,000/$0; UPMC Advantage Gold HSA $3,000/$0 plan or the UPMC Advantage Catastrophic $9,100/$0 plans, UPMC AnywhereCare virtual visits will be covered at 100 percent after you meet your deductible. This information is not a complete description of benefits. Contact the plan for more information. Limitations, copayments, and restrictions may apply.
*'Lowest Cost' applies to individual Silver plans available in Beaver, Bedford, Blair, Clinton, Fayette, Huntingdon, Indiana, Jefferson, Lawrence, Lycoming, McKean, Mercer, Somerset, Tioga, and Venango.