Get free or low-cost coverage through the American Rescue Plan.
First, choose a starting date for coverage.
More savings are now available
Thanks to the
American Rescue Plan
, you may be eligible for low-cost plans. Start your shopping experience to find out how much you can save.
We're here for you every step of the way. Please call us at
1-833-776-4540 (TTY: 711)
for help finding the option that will work best for you and your family.
Introducing our affordable, virtual-first plan: UPMC VirtualCare.*
Your care. Your choice. Your way.
UPMC VirtualCare provides access to the highest-quality care in Pennsylvania and is designed to meet many financial and health care needs.
It connects you to convenient, low-cost care your way-virtually or in person. You know what you need, so you can choose what's best for you.
Learn about UPMC VirtualCare
We offer EPO plans that have a 5-star overall rating in PA!1
Discover the value of UPMC Health Plan:
With UPMC Health Plan, you'll have access to:
$0 preventive care that can help you and your family stay healthy.

Screenings, immunizations/vaccines, and health exams for adults and children are covered at 100 percent.

2

No-cost preventive medications.3

RxWell, a free mobile app that you can use to cope with stress, anxiety, or depression — and build a stronger you.

Urgent Care anytime, anywhere — covered at 100 percent — through UPMC AnywhereCare5,6 and Children's AnywhereCare.7

Six free counseling sessions through LifeSolutions®.8

You can use these sessions over-the-phone or virtually with the UPMC AnywhereCare app, to discuss your family, relationship, or work concerns. You can also have free consultations related to financial wellness, legal issues, and more.

The UPMC Health Plan mobile app

This puts your insurance information in the palm of your hand. You can easily see a snapshot of your health care spending, find in-network providers, complete your wellness questionnaire, live chat with a Health Care Concierge, and more.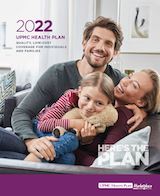 Learn about high-quality plans for individuals and families and financial aid options that can help you save on your coverage.
Read our Sales Brochure
*Available only in Allegheny, Beaver, Butler, Erie, Fayette, Washington, and Westmoreland counties.
1Plan quality ratings and enrollee survey results are calculated by CMS using data provided by health plans in 2021. The ratings are being displayed for health plans for the 2022 plan year. Learn more about these ratings. CMS scores qualified health plans (QHPs) offered through the Exchanges using the Quality Rating System (QRS) based on third-party validated clinical measure data and QHP Enrollee Survey responses. CMS calculates ratings yearly on a 5-star scale. Ratings may change from year to year.
2Preventive care will be covered at 100 percent only when it is received from a participating provider and it is billed as preventive. A separate cost may apply if additional medical services are received during the same visit or if your preventive care appointment becomes diagnostic in nature.
3Tier 5 preventive medications on UPMC Health Plan's Advantage Choice formulary will be covered with no cost share for members who meet certain criteria in accordance with the Patient Protection and Affordable Care Act of 2010.
4Go to upmchealthplan.com/BEST for award information.
5UPMC Health Plan members located in Pennsylvania at the time of a virtual visit may select a UPMC-employed provider or a provider from Online Care Network II PC (OCN), subject to availability and discretion of the provider. Members located outside of Pennsylvania will receive service from OCN. OCN is not an affiliate of UPMC.
6Only the virtual visit with the provider will be covered at 100 percent. Prescription drug and other costs related to the visit or recommended by the provider will not be included in the virtual visit coverage and will be your responsibility. If you are enrolled in the UPMC Advantage Silver or Gold HSA $3,100/$0 plan or the Catastrophic $8,700/$0 plans, UPMC AnywhereCare virtual visits will be covered at 100 percent after you meet your deductible. This information is not a complete description of benefits. Contact the plan for more information. Limitations, copayments, and restrictions may apply.
7In order for a child to have a UPMC Children's AnywhereCare visit, the child's parent or legal guardian must be with the child during the video portion of the visit, and the child and parent or legal guardian must be in Pennsylvania during the visit.
8UPMC AnywhereCare Virtual Counseling is available to UPMC Health Plan members who are located in Pennsylvania at the time of the visit. The service is available to members of your household who are 18 years old and older. If further counseling is needed, the counselor may refer you or your household members to relevant community resources.
'Lowest Cost' applies to individual Silver plans available in Allegheny, Erie, Beaver, Butler, Westmoreland, Washington, Blair, Somerset, Bedford, Lawrence, Mercer, Venango, Fayette, Indiana, Jefferson, McKean, and Huntingdon.