Sempre Health and UPMC Health Plan Expand Program that Improves Affordability and Adherence for Critical Medications
Program findings show improved adherence and increased engagement with members
PITTSBURGH & SAN FRANCISCO (Dec. 18, 2018) – Sempre Health, the leading solution for advancing behavior-based pricing reductions for medication adherence, and UPMC Health Plan, which is part of UPMC, the second largest integrated health system in the U.S., today announced an expanded collaboration to improve affordability for vital medicines.
Nearly one-third of patients skip or delay filling prescriptions or taking medication because of cost. The prevalence of cost-related nonadherence to medications can dramatically affect health outcomes and is even higher following a significant medical event, such as a heart attack.
Since 2017, Sempre Health applied innovative technology to send text message reminders to UPMC Health Plan members who were taking a key cardiovascular drug. When members filled their prescriptions on time, they paid less for the medication.
Early results show that this pioneering discount model resulted in significant improvement in member engagement and increased adherence to the medication over 12 months.
Sempre Health and UPMC Health Plan will now make additional medications available to even more members and products lines to impact members' outcomes.
"We look forward to expanding this program. While chronic disease medications can sometimes place an ongoing financial burden on patients, with this program, members are empowered to drive down their costs and over time improve their health outcomes," said Chronis Manolis RPh, chief pharmacy officer at UPMC Health Plan.
"Our growing partnership with UPMC Health Plan enables patients across Pennsylvania to share in the savings they generate when they are responsible with their health," said Anurati Mathur, CEO of Sempre Health. "We're excited to build upon our strong outcomes to date and further improve medication affordability and access for the members who need us most."
Over the first year of the collaboration, the program successfully enrolled more than one-in-three eligible members and led to significant improvements in adherence versus a control group. Additionally, the natural language text reminders and conversations with members led to increased engagement by creating a personalized and concierge experience for those enrolled.
Members reported increased affordability and satisfaction. Among the feedback from members are comments such as, "I like saving the money and being reminded to pick my meds up on time. I don't see a downside." Another member commented, "I like that I get reminded and that it gets cheaper when I refill on time."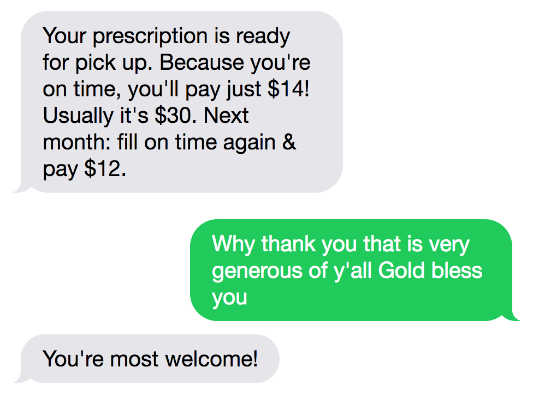 An example of a text reminder delivered by Sempre Health and received by a UPMC Health Plan member.
##
About Sempre Health
Founded in 2015, Sempre Health designs point-of-sale dynamic discounts and SMS-based engagement to incentivize healthy behaviors. Today, we work with health plans and pharma manufacturers to fundamentally change medication affordability and access across the US. For more information visit: www.semprehealth.com.
About UPMC Insurance Services Division
The UPMC Insurance Services Division is owned by UPMC (University of Pittsburgh Medical Center), a world-renowned health care provider and insurer based in Pittsburgh, Pa. The UPMC Insurance Services Division—which includes UPMC Health Plan, WorkPartners, UPMC for Life, UPMC for You, UPMC for Kids, and Community Care Behavioral Health—offers a full range of group health insurance, Medicare, Special Needs, CHIP, Medical Assistance, behavioral health, employee assistance and workers' compensation products and services to more than 3.4 million members. For more information, visit www.upmchealthplan.com.