Contact:

Gina Pferdehirt
Director, Public Relations & Community Relations
UPMC Health Plan
412-454-4953
pferdehirtgm@upmc.edu
UPMC Health Plan Earns Top Honors for Best Large Call Center at ICMI Awards
Latest national award highlights UPMC Health Plan's best-in-class member services team
PITTSBURGH (May 24, 2019) – ICMI Global Contact Center announced that UPMC Health Plan has earned its top award for the Best Large Call Center as part of the ICMI Contact Center Expo, held in Ft. Lauderdale, Fla. last week. UPMC Health Plan earned the Best Large Call Center award by way of a tie with Cvent.
The ICMI Global Contact Center Awards Program is the most comprehensive awards program dedicated to the customer management industry. More than 150 nominations were submitted from across the country to the ICMI Awards this year.
"The passion and hard work displayed by our award-winning member services team consistently earns national accolades as we continue to be recognized for our superior service across the customer service industry," said Mary Beth Jenkins, senior vice president and COO at UPMC Health Plan. "These awards help to showcase the pride we take in providing best-in-class service to our 3.5 million UPMC Health Plan members."
In addition to the ICMI Award, UPMC Health Plan also earned a total of 11 Stevie Awards earlier this year for customer service excellence along with three Gold Stevie Awards in 2018 and an additional Gold Stevie Award in 2017 for large call center of the year.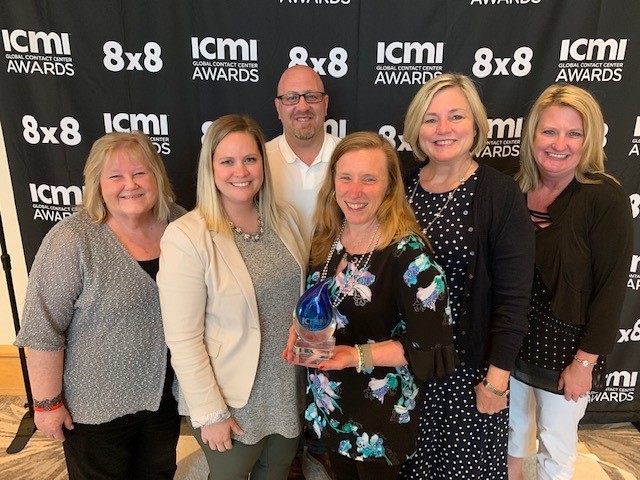 UPMC Health Plan executives were on hand to receive the ICMI Global Contact Center Award for Best Large Call Center.
L to R: Pat Rodgers, program director; Lindsey McArdle, coordinator of Medicare member services; Matt Pernesky, director of member services; Anne Palmerine, vice president of customer engagement, enrollment & retail; Rhonda Manski, director of member services; and Mary Beth Jenkins, senior vice president and COO.
##
About UPMC Insurance Services Division
The UPMC Insurance Services Division is owned and operated by the UPMC, a world-renowned health care provider and insurer based in Pittsburgh, Pa. The UPMC Insurance Services Division – which includes UPMC Health Plan, WorkPartners, UPMC for Life, UPMC for You, UPMC for Kids, and Community Care Behavioral Health—offers a full range of Employer Group and Individual health insurance, Medicare, Special Needs, Children's Health (CHIP), Medical Assistance, Behavioral Health, Employee Assistance Programs (EAP), Workers' Compensation, and Absence Management products and services to 3.5 million members. For more information, visit www.upmchealthplan.com.
About ICMI
The International Customer Management Institute (ICMI) is the leading global provider of comprehensive resources for customer management professionals—from frontline agents to executives—who wish to improve customer experiences and increase efficiencies at every level of the contact center. Since 1985, ICMI has helped more than 50,000 organizations in 167 countries through training, events, consulting, and informational resources. ICMI's experienced and dedicated team of industry insiders, trainers, and consultants are committed to helping you raise the strategic value of your contact center, optimize your operations and improve your customer service. ICMI is organized by UBM, which in June 2018 combined with Informa PLC to become a leading B2B information services group and the largest B2B Events organizer in the world.